Featured Artist
Django Django is a pop band with an eye towards the artsy edges of electronics-driven synth pop of the New Wave era, bringing that approach into a more basic rock/pop format. They are just as likely to build their song on a bass groove as they do on synthesized riffs that mesh the work of Kraftwerk with the tom-driven beats of Depeche Mode. Their vocals are strong on surf-rock type harmonies, with melodies that are aligned well with that feel. The songs can be fairly catchy, well-written, well-packaged, and carefully produced.  Django Django creates highly polished danceable, upbeat pop tunes, which is mostly what the band is interested in, and something they are very good at.
Featured Venue
Flamingo Cantina is a bar/musical venue in downtown Austin that is more or less specialized in a combination of African, Latin, and Caribbean music, including reggae and ska. It positions itself as a "good vibes" place and that's a highly accurate tag. The place practically exudes it when the beat is on. The tiki hut style bar stands to the side between the stage and the audience. The stage is raised and it is relatively small. There is a bleacher style levelled seats by the door, as well as stage left, which gives folks a good view of the stage. The entrance to the Cantina is on the 6th street and it is easy to miss it if one is not keeping an eye on the shop signs.  It also has a rooftop bar.
Featured Store
Harvest Records is one of the most popular record stores in the Asheville area, and for good reason. While they do have a small selection of CDs and even a few cassettes, the focus is clearly and proudly on vinyl. They have a very good if not completely comprehensive selection of both new and used vinyl, focusing on Indie/Alternative, Punk and Electronica but also a very decent selection of Jazz, Hip-hop, Soul/R&B, Reggae, World/International and Country/Bluegrass and a smattering of Classical, Soundtracks, etc. Perhaps best of all, you need not take a leap of faith on the intriguing used records you find. There are record players with headphones set up for you to try them out before buying. In keeping with the vinyl focus, they also sell used and new record players and accessories.
Why register as a user?
(This is a one time popup)
With a username, you become a part of our community.  
As a member, you can share your knowledge in the following ways.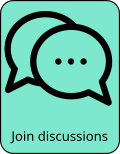 To register, click on the red person icon at the top right or this link.
We will not know anything about you other than your email, used for password confirmation and communications.  
For next steps, see FAQ for: How can I register as a user?