Why register as a user?
(This is a one time popup)
With a username, you become a part of our community.  
As a member, you can share your knowledge in the following ways.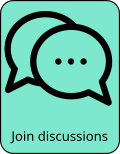 To register, click on the red person icon at the top right or this link.
We will not know anything about you other than your email, used for password confirmation and communications.  
For next steps, see FAQ for: How can I register as a user?
Outline

Bearded Theory, aka Bearded Theory's Spring Gathering, is a music festival held in the National Forest in Catton Park, Walton-on-Trent in Derbyshire, England that focuses on indie music, rock, pop, ska, folk, punk, etc. It takes place across multiple stages, with a number of other activities also happening around the festival grounds, including lectures, workshops, comedy stages, and so on. Festival atmosphere, pretty much. It got its odd name based on its first edition, which was intended as a fancy dress party with beards, before it quickly evolved into what it is now. The festival has been successfully avoiding any corporate sponsorships thus far.
Lineup

Alt Blk Era

Beans on Toast

Benefits

Billy Bragg

Black Water County

Cap Carter

Coach Party

Cruel Hearts Club

Dea Matrona

Deja Vega

Echo and the Bunnymen

Elvana

EMF

Flogging Molly

Gary Numan

Girlband

Gogol Bordello

Grace Petrie

Grove

Henge

Holy Moly and the Crackers

Idestroy

Interpol

Jealous Nostril

Lanterns on the Lake

Lime Cordiale

Mad Dog McRea

Millie Manders andf the Shutup

Muddy Summer & the DFGWs

Pet Needs

Pretenders

Primal Scream

Rudesix

Sisters in Dub

Skinny Lister

Sleeper

Stick in the Wheel

Tay Oskee

The Bar-Steward Sons of Val Doonican

The Big Club

The Dualers

The Go! Team

The Men They Couldn't Hang

The Undertones

Trojan Sound System

William the Conqueror

Witch Fever
Poster
Pictures
Comments