How can I create a new entry?
First, you should run a search on the artist or venue you are considering to make sure someone has not created it already. For artists and venues, make sure you have also checked the stubs that have been automatically created but are not published since they lack content. Go to My Content > Stubs.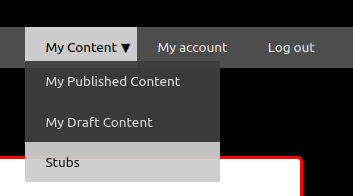 Once you log in, click on the red button on the header that now says with a megaphone"Propagandize""Add".
That will take you to a page that gives you the Artist, Store, and Venue options.
Pick the one you would like to create, and fill in the fields. Things of note:
Artists
Content: Make sure you are writing up original content and not cut and pasting from Wikipedia or similar sites. We value what you have to say, not what Wikipedia does. 
Images: 

We prefer landscape images, if possible. They look better.
We also prefer at least 1200px width on the pictures, if possible.
We have a 2 Mb upper limit on the size of the pictures.
For Store and Venue pictures, external pictures would be appreciated. It would help people spot the place in real life.

Image Credits: If you can find the person who created the image you are using in the article, please provide their name in the credit section. They have put the work in, they should be recognized for it.
City: Pick the city that they are based in currently but not necessarily where they began or where they grew up. An artist's base of operations gives fans a better sense wrt where they are likely to appear in live performances, as well as the artistic environment they are more likely to be interacting with. Obviously, people move so what is in this field will need updating in some cases. If the city you want to enter is not already in our base, the system will create it for you when you type it in. For cities, please follow this pattern: 

For North America:

[city name], [state name] US
[city name], [state name], Mexico
[city name], [province name], Canada

For the UK: 

[city name], [England | Northern Ireland | Scotland | Wales], UK

Otherwise: 

[city name], [country name] 

Genre: Get as specific as you can with what appears in the autocomplete or the genre tree. If the best label for the artist's music is not there, create it as a new Style. When we see enough entries with that particular style designation, we sometimes promote it to a genre (actually a sub-genre but that would be nit-picky). 
Outline: This is where you get to describe this artist's music and genre or what we can expect if we saw them live, in your own words and your own thoughts. You have 1000 character limit as you do this. With Venues, the goal is to give the reader an idea of what kind of a venue the place is. Also in 1000 characters or less.
If You Like: Who would you recommend this artist to on the basis of who they like? If we already have that artist, link them. Try not to rely on the "similar names" lists that places like Spotify, Apple Music, etc have. They are generated by algorithms based on user behavior instead of musical similarity, which is why it is not unusual to get names whose only commonality with the artist in question is their nationality or the language they speak. They are useful as a starting point though (All Music and Last FM are closer to the mark more often) but you may still need to check them out before deciding they are a good fit. (There is a 255 character limit.) 
Related To:  Were they a member of some band, do they frequently collaborate with someone? Are they actually related to someone? Connect dots with people we may already know. If we have that artist, link them. Keep it in 500 characters. 
Elevator Pitch: This is where you get to sum up the artist with in 255 characters max. It should be much much shorter than that. Give us a one liner and have fun with it. 
Links:

We have been placing the social media links in this order: Facebook, Twitter, Instagram, others.
We have been placing the streaming links to the songs and albums in this order: Bandcamp, Soundcloud, Open Spotify, Apple Music, others. (Bandcamp provides the best payoff to artists, as far as we know,  Souncloud is mostly free, and Spotify is ubiquitious.) 
Stores 
Size: We have no strict criteria for store size. Between small (only four, five customers able to go through the bins at a time) and mega (it's a warehouse!), the call on the size is for yours to make based on the range you've seen and perhaps others to disagree based on the range they've seen.
Specialized in: is a small field so you cannot go wild in that field, but if anything basic jumps at you wrt genres and new vs used records, etc. Obviously, the larger the store gets, the more likely it will cover broader ground. 
Other Notes: Anything else you would like to add about the store, listening stations, what else they sell, etc. 
Parking: Nothing detailed. Basic things like whether they have their own parking lot or any tips that jump at you. 
Pictures: You can provide a picture of the place, typically from the inside, and preferably one you yourself took.  Enter your name for credit in the image title section.  This is optional if the picture is yours, not so if you found it on the internet. There is a 2 Mb limitation on the size of the pic. 
Map information: This part is not visible to authors. We will add that part. That is why you may not see a map immediately when you save the article.
Venues
Age Restriction: A small field, so nothing elaborate. Just the plain facts.
Max Capacity: The official maximum capacity of the venue. This information is usually available on the internet.
Merch Stand, Bathrooms: Just quick directions in case no one in the venue can hear you asking because it is too loud. Merch stands are sometimes fluid. So put that in if you see a particular section of the venue is being used consistently. 
Other Notes, Parking, Pictures, Map information: Same as in the Stores above. 
What if you already have another artist/store/venue by the same name?
Don't worry, when you create another entry by the same name, you will not be writing over what was already there. The system has a way of treating the titles as incidental text. The only thing is that the link for the article, the URL, will probably have a dash after your title, and then some number. So it will look like this:
thepropagandasite.com/artist/[the-name-of-the-artist]-[some number]
instead of the regular:
thepropagandasite.com/artist/[the-name-of-the-artist]
What are the main stylistic conventions?
We have adopted the following convention in articles.
In the outline section only:
Bold-face the names of bands and artists on first mention (except the one that the entry is about; their name is in the title already).
Same with the names of collectives, e.g., Odd Future, Elephant 6, etc.
Same with venue names.
If you are writing about a band, do not bold face the members' names.
Italicize the names of albums and songs.
Don't use bold-faces or italics in the other field, e.g., If you like, Elevator pitch, etc.
Throghout the article.
Link the names of any artist, label, festival, or venue mentioned in your entry to The Propaganda Site article if we have an entry for them.
Link any mention of an instrument that the reader may not be familiar with, or any other esoteric reference to either its wikipedia site or something comparable.
Note that not every field allows links. Those that do either have a link icon at the top or you can hit ctrl+k on the keyboard.