Why register as a user?
(This is a one time popup)
With a username, you become a part of our community.  
As a member, you can share your knowledge in the following ways.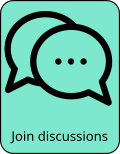 To register, click on the red person icon at the top right or this link.
We will not know anything about you other than your email, used for password confirmation and communications.  
For next steps, see FAQ for: How can I register as a user?
Outline

M(h)aol (also Mhaol, pronounced "male") is a post-punk band with a rough and jagged sound that suggests a punk-like mindset. At the heart of their music is the pulse pushed by the band's dual bassists, who often spell out the melody and are backed by the pounding, relentless beats on the drums. On top of this  tight foundation lies the chaotic presence of  the guitarist Sean Nolan and his well-calibrated noise. The line up is completed by vocalist Róisín Nic Ghearailt, who sets the tone with her speak-singing, shouty vocals and her lyrics that explicitly focus on gender politics and feminist issues. The members of the band are spread across multiple cities but they seem to have Dublin as their home ground. 
Members

Róisín Nic Ghearailt: vocals
Constance Keane: drums
Jamie Hyland: bass
Zoe Greenway: bass
Sean Nolan: guitar
Schedule

We currently have no events listed for M(h)aol.
Comments