Why register as a user?
(This is a one time popup)
With a username, you become a part of our community.
As a member, you can share your knowledge in the following ways.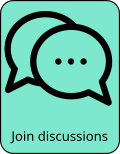 To register, click on the red person icon at the top right or this link.
We will not know anything about you other than your email, used for password confirmation and communications.
For next steps, see FAQ for: How can I register as a user?
Outline

Shearwater is an indie rock band led by singer and guitarist Jonathan Meiburg who formed the band with his Okkervil River bandmate Will Sheff, and ended up its sole lead in 2006. During that time, their music went from folk flavored muted pieces and delicate chamber pop to indie rock that has been mutating into a slowed down, contemplative post-rock. What ties all these threads together is the way the band has been opening up wide spaces around their music and engaging in sonic world building. Their current style of music combines Talk Talk's balancing act between sparse textures and  intermittent bursts with Can's motorik grooves. It is to the band's credit that they can construct a style they make their own from such identifiable components. Meiburg's distint vocals often recall Richard Thompson's timbre, though it has been sliding into some of Mark Hollis mannerisms recently. Their 2013 release Fellow Travelers is a covers album.
Schedule

We currently have no events listed for Shearwater.
Comments