Why register as a user?
(This is a one time popup)
With a username, you become a part of our community.  
As a member, you can share your knowledge in the following ways.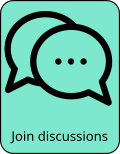 To register, click on the red person icon at the top right or this link.
We will not know anything about you other than your email, used for password confirmation and communications.  
For next steps, see FAQ for: How can I register as a user?
Outline

Loma is a composite band, a collaboration between the original duo of Cross Record (Emily Cross and Dan Duszynski) and Shearwater's Jonathan Meiburg, merging their remarkably parallel sensibilities into a single combo. Their overall sound is more or less a combination of its parts: it is built on expansive soundscapes, dark ambient energy, a cavernous feel, and ethereal vocals. Their use of synthesizers was increased on their second album Don't Shy Away (2022). Otherwise, they have a soft spot for various woodwind and brass instruments as well as a string section to create a layered sound. The music is elegant and beautiful in the way it unfolds patiently, evoking a broad sense of space. 
Members

Emily Cross: vocals, keyboards, harp
Dan Duszynski: keyboards, guitar, production
Jonathan Meiburg: guitar
Schedule

We currently have no events listed for Loma.
Comments