Why register as a user?
(This is a one time popup)
With a username, you become a part of our community.
As a member, you can share your knowledge in the following ways.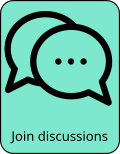 To register, click on the red person icon at the top right or this link.
We will not know anything about you other than your email, used for password confirmation and communications.
For next steps, see FAQ for: How can I register as a user?
Outline

Saloon Dion plays high powered, guitar driven post-punk that taps into the kind of punk energy that sometimes brings their sound close to bands like IDLES and Heavy Lungs. They play strong beats and catchy riffs, with some surprising classic rock elements tucked away: in particular, some of the guitar licks and the always more than welcome clicking of a cowbell in the background. There are also some garage elements occasionally peeking around the corner as well. The band was put together by the members of a few Bristol area bands who seem to have found a new home here, with especially vocalist Dave Sturgess sounding like he is having the time of his life.
Members

Dave Sturgess: vocals, synth
Tom Simpkins: guitar
Taryn McDonnell: Guitar
Luke Mullins: bass
Ben Molyneux: drums
Schedule

We currently have no events listed for Saloon Dion.
Comments