Why register as a user?
(This is a one time popup)
With a username, you become a part of our community.  
As a member, you can share your knowledge in the following ways.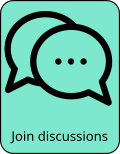 To register, click on the red person icon at the top right or this link.
We will not know anything about you other than your email, used for password confirmation and communications.  
For next steps, see FAQ for: How can I register as a user?
Outline

Idles (also spelled as IDLES) is a post-punk noise art band from Bristol, England that produces a powerful and unabashedly abrasive form of rock. They are a band that overtly expresses their passionate, from the instruments that typically perform on a manic overdrive to the lead singer Joe Talbot shouting his often aggressively political and often humorous lyrics with his signature hoarse voice. There are some post-punk elements to their music based on how the bass and the drums interact, and the textural nature of the guitars, but they also have a deeply punk-oriented side with Talbot's snarl, his bouncing-off-the-walls energy, as well as their overall harshness of the sound and the band's general attitude. Also Joy as an Act of Resistance, has got to be one of the better album titles that came along in recent years.

Joyful rage as an act of defiance.
Members

Joe Talbot: vocals
Mark Bowen: guitar
Lee Kiernan: guitar
Adam Devonshire: bass
Jon Beavis: drums
Schedule

Displaying 13 total events

| Show | Venue | City | Date and time | Tickets |
| --- | --- | --- | --- | --- |
| Re:Set Concert Series (3 Day Pass) with boygenius, Steve Lacy, LCD Soundsystem, and more | Texas Trust CU Theatre | Grand Prairie, TX (US) | Fri, Jun 9, 2023 03:30 am | |
| Re:Set Concert Series Friday | New Orleans City Park | New Orleans, LA (US) | Fri, Jun 9, 2023 04:00 pm | |
| Re:Set Concert Series (Saturday) with LCD Soundsystem, Jamie xx, IDLES, and Big Freedia | Central Park | Atlanta, GA (US) | Sat, Jun 10, 2023 03:30 am | |
| Re:Set Concert Series (3 Day Pass) with Steve Lacy, LCD Soundsystem, boygenius, and more | Suffolk Downs | East Boston, MA (US) | Fri, Jun 16, 2023 03:30 am | |
| Re:Set Concert Series (Sunday) with LCD Soundsystem, Jamie xx, IDLES, and L'Rain | Merriweather Post Pavilion | Columbia, MD (US) | Sun, Jun 18, 2023 03:30 am | |
| LCD Soundsystem | Re:set | Merriweather Post Pavilion | Columbia, MD (US) | Sun, Jun 18, 2023 05:00 pm | |
| Idles | Franklin Music Hall | Philadelphia, PA (US) | Tue, Jun 20, 2023 08:00 pm | |
| IDLES | The National | Richmond, VA (US) | Wed, Jun 21, 2023 07:30 pm | |
| Re:Set Concert Series (3 Day Pass) with boygenius, LCD Soundsystem, Steve Lacy, and more | KEMBA Live! | Columbus, OH (US) | Fri, Jun 23, 2023 03:30 am | |
| Re:Set Concert Series Friday | The Great Lawn in Centennial Park | Nashville, TN (US) | Fri, Jun 23, 2023 04:00 pm | |
| Re:Set Concert Series (Saturday) with LCD Soundsystem, Jamie xx, IDLES, and L'rain | KEMBA Live! | Columbus, OH (US) | Sat, Jun 24, 2023 03:30 am | |
| Re:Set Concert Series (Sunday) LCD Soundsystem, Jamie xx, IDLES, and L'Rain | Riis Park | Chicago, IL (US) | Sun, Jun 25, 2023 03:30 am | |
| Jamie T | Finsbury Park | London (GB) | Fri, Jun 30, 2023 01:30 pm | |
Comments