Why register as a user?
(This is a one time popup)
With a username, you become a part of our community.  
As a member, you can share your knowledge in the following ways.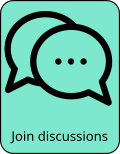 To register, click on the red person icon at the top right or this link.
We will not know anything about you other than your email, used for password confirmation and communications.  
For next steps, see FAQ for: How can I register as a user?
Outline

Glasser, aka Cameron Mesirow, is a singer-songwriter who was among the batch of artists who were pushing electronic music further into the pop territory in the early '10s, emerging alongside contemporaries like Grimes and Julia Holter. Her work tends to be more atmospheric compared to those artists, leaning a bit more on the ethereal side, with a somewhat expansive sound and a folktronica type vocal-centric approach. She has been constructing interesting beats throughout her career as well, especially prominent in her earlier albums going back to her 2010 debut, Ring, though that never quite became a central feature of her music. Her upcoming album Crux marks her return to the pop scene after about a 10 year hiatus.
Schedule

We currently have no events listed for Glasser.
Comments