Why register as a user?
(This is a one time popup)
With a username, you become a part of our community.  
As a member, you can share your knowledge in the following ways.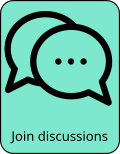 To register, click on the red person icon at the top right or this link.
We will not know anything about you other than your email, used for password confirmation and communications.  
For next steps, see FAQ for: How can I register as a user?
Outline

Sharon Van Etten is a singer-songwriter who works mostly within that broad space spanning between indie folk and indie rock. Her first album was grounded more in the acoustic folk style, but then she began to open her sound up to more electric and rhythmic elements. She has been growing as a songwriter in each album, producing more sophisticated arrangements and exploring different flavors of folk and rock. Her songs have progressively been tending towards a mixture of low tempo emotional slowburns and mid to high tempo passion fests. This trajectory continued on 2019's Remind Me Tomorrow, as she took a turn to a heavier sound while on 2022's post pandemic We've Been Going About This All Wrong, she switched to a darker, more somber note that delves into a sense of sadness and isolation.
Schedule

We currently have no events listed for Sharon Van Etten.
Comments