Why register as a user?
(This is a one time popup)
With a username, you become a part of our community.  
As a member, you can share your knowledge in the following ways.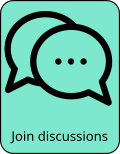 To register, click on the red person icon at the top right or this link.
We will not know anything about you other than your email, used for password confirmation and communications.  
For next steps, see FAQ for: How can I register as a user?
Outline

Wye Oak is the Baltimore based electronic-leaning indie pop duo Jenn Wasner on vocals, guitar, bass and Andy Stack on drums, keyboards. Their music uses a good deal of production effects including synths, and pedals, syncopated rhythms and breakbeats, typically subdued guitar riffs, and calm indie folk style vocals. The band started out as a drums + guitar indie rock band whose music was not at all harsh, and often intersected with indie folk. Their style started to change around 2014's Shriek, where they started to bring in a more textured sound with the use of electronics and distinct rhythmic patterns. Wasner then took these ideas further in her solo work under the Flock of Dimes moniker. The work she did there later fed right back into Wye Oak's music, which, when combined with Stack's intricate work on drums, opened up the band's horizons considerably.
Members

Andy Stack: drums, keyboards
Jenn Wasner: guitar, bass, vocals
Schedule

We currently have no events listed for Wye Oak.
Comments