Why register as a user?
(This is a one time popup)
With a username, you become a part of our community.  
As a member, you can share your knowledge in the following ways.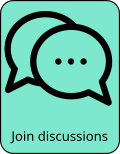 To register, click on the red person icon at the top right or this link.
We will not know anything about you other than your email, used for password confirmation and communications.  
For next steps, see FAQ for: How can I register as a user?
Outline

Patio is an NYC based trio that plays a scrappy and fairly stripped-down form of post-punk with an angular style, a jumpy guitar, and punchy drums that are anchored around a strong bass that drives the songs. The guitar and the bass have a relatively bare sound with guitarist Lindsey-Paige McCloy pushing her sharp and short, though slightly muted, bursts in the true post-punk fashion. She tag teams with bassist Loren DiBlasi on the vocals as they go back and forth between sweet melodic mode and somewhat deadpan, speak-singy delivery. There are also glimpses of Cate Le Bon influences along the way, both in the vocal mannerisms and the way their melodies are structured from a wonderfully skewed angle that creates a similar off kilter feel.
Members

Lindsey-Paige McCloy: guitar, vocals
Loren DiBlasi: bass, vocals
Alice Suh: drums
Schedule

We currently have no events listed for Patio.
Comments