Why register as a user?
(This is a one time popup)
With a username, you become a part of our community.  
As a member, you can share your knowledge in the following ways.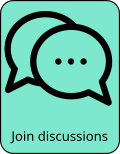 To register, click on the red person icon at the top right or this link.
We will not know anything about you other than your email, used for password confirmation and communications.  
For next steps, see FAQ for: How can I register as a user?
Outline

Palehound is an indie rock trio led by singer-songwriter and guitarist Ellen Kempner, who writes songs with a very fluid style and clearly discernible folk undertones. Their line up has gone through some changes since they started in the early '10s, but their overall sound has remained consistent where the band has been playing with roughly the same mellow demeanor. Kempner has a remarkable knack for writing strong melodies that require no instrumental embellishment to make an impression on the listener. She is also a solid guitarist who has an understated style of playing that is designed to serve the song more than anything else. Her subject matter typically gravitates towards romantic tones, focusing on personal relationships and small moments in life. 
Members

Ellen Kempner: guitar, vocals
Zoë Brecher: drums
Larz Brogan: bass
Schedule

We currently have no events listed for Palehound.
Comments