Why register as a user?
(This is a one time popup)
With a username, you become a part of our community.  
As a member, you can share your knowledge in the following ways.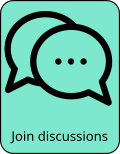 To register, click on the red person icon at the top right or this link.
We will not know anything about you other than your email, used for password confirmation and communications.  
For next steps, see FAQ for: How can I register as a user?
Outline

Jay Som is the moniker used by multi-instrumentalist Melina Duterte, a singer-songwriter with an obvious affinity for the '90s dream pop/shoegaze sound, especially in her earlier recordings. There was also a touch of alt-rock in her music, which also began to fade as she started to develop her pop muscles and to readjust the balance between melodies and mood in her more recent work (see Crown, for instance). The process also saw her become more removed from her initial bedroom sound (back when she played all the instruments) to bringing in other musicians and growing more confident, sharp, and intricate in her arrangements. Her connection to those days persists a little in her often understated but expressive voice that retains its tad misty and melancholic quality.
Schedule

We currently have no events listed for Jay Som.
Comments