Why register as a user?
(This is a one time popup)
With a username, you become a part of our community.
As a member, you can share your knowledge in the following ways.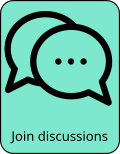 To register, click on the red person icon at the top right or this link.
We will not know anything about you other than your email, used for password confirmation and communications.
For next steps, see FAQ for: How can I register as a user?
Outline

Hand Habits is the stage name for singer-songwriter Meg Duffy, which, before that, was the name of the band Duffy led, but now it is their moniker. They started out as an artist who wrote folk-inspired slow tempo ballads they played with either a solo guitar or a basic band. There were some stylistic changes in their 2021 album, Fun House, where they made more use of synths and pushed the the tempo up a little. The core of their music has remained pretty much in the the same vein though: mostly sorrowful songs with subtle melodies with lyrical depth that are captivating at an emotional level. Duffy delivers them in hushed and intimate tones, and with the kind of intricate guitar work that reminds us that they had worked as a highly regarded session musician before Hand Habits.
Schedule

Displaying 2 total events
Comments