Why register as a user?
(This is a one time popup)
With a username, you become a part of our community.
As a member, you can share your knowledge in the following ways.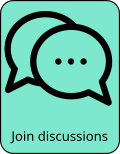 To register, click on the red person icon at the top right or this link.
We will not know anything about you other than your email, used for password confirmation and communications.
For next steps, see FAQ for: How can I register as a user?
Outline

Noise Pop festival is a week-long music festival held across several venues in the city of San Fransisco annually, typically in the winter. It is organized by Noise Pop, a music promoter based in SF. It focuses on indie acts but is not limited to it as it also covers jazz and hip-hop as well. It began in 1993, so 2023 marks its 30th anniversary.

Various venues in the downtown area

You can also buy tickets for individual shows rather than whole day packages.
Lineup

20 Minute Loop

60 Juno

Aliminum

Aroma

Astu and the Hallelujahs

Bella Hangnail

Bob Mould

Boy Harsher

Build Them To Break

Charlie Hickey

Chippy Nonstop

Chisel

Chloé Robinson

Christian Kuria

Clearcast

Covet

Cuntstomer Servixxx

Curtis Waters

DJ ADHD

DJ Patrick

Dante Elephante

Das Kope

Dash George

Death Bells

Death By Stereo

Duster

Everyone Asked About You

FIDLAR

Flasher

HE.SHE.THEY.

Hurry Up

JDM Global

Jacques Greene

James Brandon Lewis Trio

Jeffrey Sfire

Jeremy Castillo

Julie

Junglepussy

Katie Pearlman

Kingdom First

Liily

Llloyd

Lovey

Malia

Mareux

Mesmé

Mishka

NGHTCRWLR

Narrow Head

Nate Mercereau feat. Carlos Niño & Friends

No Vacation

Nonbinary Girlfriend

Noso

Nyte Skye

Oranger

Overwhelming Colorfest

Pendant

Quasi

RXK Nephew

Rayreck.

Rex

Ritmos Tropicosmos

Rozzi

STRFKR

Sara Landry

Satya

Sgt. Major 6

Slow Cramp

Sobs

Soft Blue Shimmer

Sour Widows

Spiritual Cramp

Stephen Steinbrink

Stroy Moyd and Friends

Suade

Taipei Houston

The Hammerbombs

The Messthetics

The Reds Pinks & Purples

Tommy Guerrero

Tourist

Trauma Ray

Tsunami Bomb

UNIIQU3

Wabie

White Reaper

Windser

Yo La Tengo

Yu Su

Zoh Amba

Zola
Poster
Pictures
Comments