Why register as a user?
(This is a one time popup)
With a username, you become a part of our community.
As a member, you can share your knowledge in the following ways.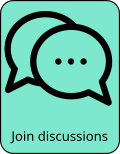 To register, click on the red person icon at the top right or this link.
We will not know anything about you other than your email, used for password confirmation and communications.
For next steps, see FAQ for: How can I register as a user?
Outline

Sofia Kourtesis is an electronic dance music producer and occasional singer who works primarily in the house style with a little bit of techno mixed in.  Her music tends to be warm and uplifting, though in a relatively measured way, since it has a tendency to  put her audience into a thoughtful and reflective mood. She frequently pays tribute to her hometown of Lima, Peru, and the marginalized inhabitants of the city who are often thematically present in her music. Her beats and grooves feel organic, and convey a sense of motion. She likes to include musical samples in her work as well as snippets of speech taken from movie dialogues or similar sources that she integrates into her rhythms and instrumentation.
Schedule

We currently have no events listed for Sofia Kourtesis.
Comments