Why register as a user?
(This is a one time popup)
With a username, you become a part of our community.
As a member, you can share your knowledge in the following ways.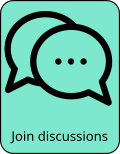 To register, click on the red person icon at the top right or this link.
We will not know anything about you other than your email, used for password confirmation and communications.
For next steps, see FAQ for: How can I register as a user?
Outline

VERO is an indie rock trio based in Stockholm that plays their music straight up '90s alt rock inspiration in a way that brings to mind some of the outstanding bands of the era, such as Elastica and The Breeders. They put together strong melodies, both in the vocal lines sung by bassist Julial Boman, and in the guitar lines led by the pair of Amanda Eddestål and Clara Gyökeres. The songs are usually instantly hummable, but the band does not only rely on the catchiness of their melodies. They tend to push their sound up often, especially between the pair of guitars that are an effective tandem. Their first release, 2020's EP Heaven on Earth, had a more post-punk style with some synths coupled with '80s style dry drums sound and bass pedals.
Members

Amanda Eddestål - guitar
Clara Gyökeres - guitar
Julia Boman - vocals, bass
Schedule

We currently have no events listed for VERO.
Comments