Why register as a user?
(This is a one time popup)
With a username, you become a part of our community.
As a member, you can share your knowledge in the following ways.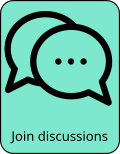 To register, click on the red person icon at the top right or this link.
We will not know anything about you other than your email, used for password confirmation and communications.
For next steps, see FAQ for: How can I register as a user?
Outline

Meernaa is a band led by singer-songwriter Carly Bond, whose work has a distinctive sound that draws from a broad  range of influences. She often taps into a nice, laid-back groove, that is sometimes quite subtle at its core, and other times, has pronounced neo-soul accents. Their music also bring in a cool, jazzy sound that has been the bedrock of Sade's music in the '80s, along with the rolling, circular flow Kate Bush has been working with since the '90s, along with the calm, expansive, and spacious sound that Talk Talk developed at the end of their career. The band does a great job at melding these influences into a unified, cohesive sound, which results in a type of indie music that is smart and captivating at different levels, and stands out very clearly in a crowded field. 
Members

Carly Bond: vocals, guitar
Rob Shelton: keyboards
Doug Stuart: bass
Andrew Maguire: drums
Schedule

We currently have no events listed for Meernaa.
Comments