Why register as a user?
(This is a one time popup)
With a username, you become a part of our community.
As a member, you can share your knowledge in the following ways.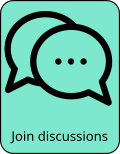 To register, click on the red person icon at the top right or this link.
We will not know anything about you other than your email, used for password confirmation and communications.
For next steps, see FAQ for: How can I register as a user?
Outline

Meadow Meadow is the duo Peter Darlington and James Green, on guitar and bass, respectively, who play a calm and relaxed type of pop that presents a fluid, dreamy feel. Oddly enough, they started out as members of the fast and loud garage rock band The Spring Kings in the mid '10s. The second time they came together as Meadow Meadow, there was obviously an abrupt change of direction in their music. This time they play a strong lo-fi ambient pop that mixes chill grooves, mellow melodies, and warm synth driven atmospherics. Their self-titled 2020 debut EP had more folk leanings than their subsequent work. Both members sing in a soft, even-keeled voice that fits right in with the overall mood of their songs. 
Members

Peter Darlington: guitar, vocals
James Green: bass, vocals
Schedule

We currently have no events listed for Meadow Meadow.
Comments