Why register as a user?
(This is a one time popup)
With a username, you become a part of our community.  
As a member, you can share your knowledge in the following ways.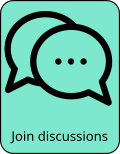 To register, click on the red person icon at the top right or this link.
We will not know anything about you other than your email, used for password confirmation and communications.  
For next steps, see FAQ for: How can I register as a user?
Outline

cosmic collective (stylized in lowercase) is a band built around Nikki and Tyler Enslow, who play a style of jazz that takes a lot of its ingredients from the rich world of fusion, including '80s style pop jazz. They also find ways to work in drum 'n' bass and bossa nova beats. Their sound is generally light-hearted and playful as it is also charming, melodic, and funky. Tyler Enslow sets the grooves on his bass while NIkki Enslow provides the nimble keyboard action as well as vocals. They are a prolific band whose line up has frequently changed between the pandemic and their move from Nashville to Charlotte. There are some releases where the duo handled all the instruments, which gives their work "bedroom jazz" type vibes that goes hand in hand with its homemade feel. 
Members

Nikki Enslow: keyboards, vocals
Tyler Enslow: bass, drums, keyboards

Schedule

We currently have no events listed for cosmic collective.
Comments