Why register as a user?
(This is a one time popup)
With a username, you become a part of our community.
As a member, you can share your knowledge in the following ways.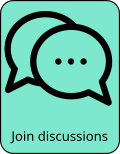 To register, click on the red person icon at the top right or this link.
We will not know anything about you other than your email, used for password confirmation and communications.
For next steps, see FAQ for: How can I register as a user?
Outline

Choses Sauvages is a Montreal based five piece pop band with a strong appetite for '80s synth pop and new wave as well as '70s funk and disco beats. Their chiming synth lines, funky bass, and snappy jazz-curious guitar chords sound like a combination of bands like Aztec Camera and the Speaking in Tongues period Talking Heads, except, in French. Their 2021 album Choses Sauvages II sees the band fully integrate disco into their music, and do so with full-on commitment to the whole menu, and not just picking and choosing at the edges. They stitch together these different musical styles and approaches effortlessly through their ability to create strong grooves, accessible melodies, and execute the concept with enviable precision. The result is rich, multi-layered music that is high on the danceability scale.

Break out the bell-bottoms, polyester shirts, headbands, and roll up your jacket sleeves.
Members

Félix Bélisle: bass, vocals
Marc-Antoine Barbier: guitar, vocals
Tommy Bélisle: keyboards
Thierry Malépart: guitar
Philippe Gauthier Boudreau: drums
Schedule

We currently have no events listed for Choses Sauvages.
Comments