Why register as a user?
(This is a one time popup)
With a username, you become a part of our community.
As a member, you can share your knowledge in the following ways.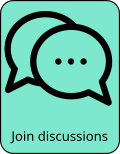 To register, click on the red person icon at the top right or this link.
We will not know anything about you other than your email, used for password confirmation and communications.
For next steps, see FAQ for: How can I register as a user?
Outline

Cannons is a Los Angeles trio whose music brings some of the dream pop elements into synth pop. The electronic and synth based backbone of the band is usually pretty mellow and patient, playing on top of a steady, machine-like beat, as the guitar generally provides texture and melodic phrases that add to the overall mood. Their songs usually vary between uptempo dance-oriented electronic pop and wistful mid tempo pieces as vocalist Michelle Joy's hazy and soft focus voice delivery remains fairly restrained. The net effect is music that sounds club chilled as opposed to dance floor heated. Their music feels more lyrical than melodic, frequently reaching for an emotional resonance amidst the calm they project.
Members

Michelle Joy: vocals
Ryan Clapham: guitar
Paul Davis: drums, keyboards
Schedule

Displaying 17 total events

| Show | Venue | City | Date and time | Tickets |
| --- | --- | --- | --- | --- |
| The Knocks w/ Cannons | The Beacham | Orlando, FL (US) | Mon, Oct 3, 2022 07:00 pm | |
| The Knocks x Cannons | Culture Room | Ft Lauderdale, FL (US) | Tue, Oct 4, 2022 07:00 pm | |
| The Knocks w/ Cannons | The Ritz Theater - Ybor City | Tampa, FL (US) | Wed, Oct 5, 2022 08:00 pm | |
| The Knocks w/ Cannons | Blackbox Theater - Charlotte | Charlotte, NC (US) | Fri, Oct 7, 2022 06:00 pm | |
| The Knocks x Cannons | The Charleston Music Hall | Charleston, SC (US) | Sat, Oct 8, 2022 08:00 pm | |
| The Knocks x Cannons | 9:30 CLUB | Washington, DC (US) | Tue, Oct 11, 2022 07:00 pm | |
| The Knocks w/ Cannons | Union Transfer | Philadelphia, PA (US) | Fri, Oct 14, 2022 08:00 pm | |
| Box Seats: The Knocks x Cannons ( 21+ Only ) | Big Night Live | Boston, MA (US) | Sat, Oct 15, 2022 05:30 pm | |
| The Knocks w/ Cannons | Majestic Theatre-MI | Detroit, MI (US) | Mon, Oct 17, 2022 07:00 pm | |
| The Knocks w/ Cannons | Headliners Music Hall | Louisville, KY (US) | Tue, Oct 18, 2022 08:00 pm | |
| The Knocks w/ Cannons | Brooklyn Bowl - TN | Nashville, TN (US) | Fri, Oct 21, 2022 01:00 am | |
| The Knocks w/ Cannons | Concord Music Hall | Chicago, IL (US) | Fri, Oct 21, 2022 08:00 pm | |
| The Knocks x Cannons | The Sylvee | Madison, WI (US) | Sat, Oct 22, 2022 08:00 pm | |
| The Knocks w/ Cannons | First Avenue | Minneapolis, MN (US) | Sun, Oct 23, 2022 08:00 pm | |
| The Knocks w/ Cannons | Gothic Theatre | Englewood, CO (US) | Tue, Oct 25, 2022 08:00 pm | |
| The Knocks w/ Cannons | Roseland Theater | Portland, OR (US) | Sat, Oct 29, 2022 09:00 pm | |
| The Knocks w/ Cannons | Showbox SoDo | Seattle, WA (US) | Mon, Oct 31, 2022 09:00 pm | |
Comments