Why register as a user?
(This is a one time popup)
With a username, you become a part of our community.  
As a member, you can share your knowledge in the following ways.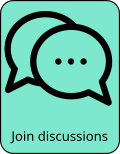 To register, click on the red person icon at the top right or this link.
We will not know anything about you other than your email, used for password confirmation and communications.  
For next steps, see FAQ for: How can I register as a user?
Outline

Vocalist, pianist, clarinetist, and composer Angel Bat Dawid (née Angel Elmore) is a singular artist with an idiosyncratic vision who brings together the musical traditions of free jazz, gospel, and contemporary classical music. She works with a wide range of options varying from small ensembles and simple accompaniments to large scale orchestral and choral arrangements. Her clarinet is on prominent display in her music, as one would imagine. Her vocals are quite powerful, often delivered in almost an operatic style. It is complex music even when it is stripped down, rich with avant-garde features and bold sonic textures and scales, and rarely straight up jazz. As restless and demanding as it may be, it is also both exhilarating and highly rewarding experience in many respects. 
Schedule

We currently have no events listed for Angel Bat Dawid.
Comments