Why register as a user?
(This is a one time popup)
With a username, you become a part of our community.
As a member, you can share your knowledge in the following ways.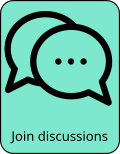 To register, click on the red person icon at the top right or this link.
We will not know anything about you other than your email, used for password confirmation and communications.
For next steps, see FAQ for: How can I register as a user?
Outline

Amber Mark is a singer-songwriter and an R&B artist whose music expands beyond the traditional boundaries of the genre and incorporates regional elements from the Caribbean region, including reggaeton, bossanova, dub, and various Latin beats. She has had the kind of colorful life that places those influences in context: having Jamaican and German parents, years spent at a Buddhist monastery in India, among other things,  She also draws from hip-hop and rock to a lesser extent. Her songs are melodic without being overly sweet, and quite a few of them deal with a sense of loss and renewal. She has lovely and powerfui voice that is a little on the husky and misty side, which evokes jazzy accents at times.
Schedule

We currently have no events listed for Amber Mark.
Comments