Why register as a user?
(This is a one time popup)
With a username, you become a part of our community.
As a member, you can share your knowledge in the following ways.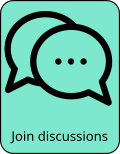 To register, click on the red person icon at the top right or this link.
We will not know anything about you other than your email, used for password confirmation and communications.
For next steps, see FAQ for: How can I register as a user?
Outline

Adwaith is a three piece indie rock band from Camarthen, Wales, with a quirky sense of pop and a hint of post-punk flavor. Their music is typically upbeat and uptempo, though not necessarily all sunshine. The guitars are a little on the jangly side, with very little or no pedal effects, and often finger picked. The bass has a nice swing to it, and quietly drives the songs in the background, while the drums syncopate around the backbeat. The songs are melodic without being overly catchy or sweet, and they have a generally relaxed feel. Hollie Singer, the vocalist, has a clear voice and sings in a way that floats in and out of the songs with great ease. The songs are in Welsh, which is a point of pride for the band.
Members

Hollie Singer: guitar, vocals
Gwenllian Anthony: bass, keyboards
Heledd Owen: drums
Schedule

We currently have no events listed for Adwaith.
Comments