Why register as a user?
(This is a one time popup)
With a username, you become a part of our community.
As a member, you can share your knowledge in the following ways.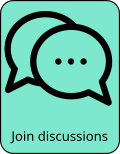 To register, click on the red person icon at the top right or this link.
We will not know anything about you other than your email, used for password confirmation and communications.
For next steps, see FAQ for: How can I register as a user?
Outline

Sports Team is a six piece band from London that is one of the current crop of acts that are carrying on the Britpop tradition. They are a buoyant upbeat band that takes their musical clues from bands like Blur and Pulp as well as Pavement. Their music is fairly guitar-centric, with strong beats, straightforward melodies and uncomplicated song structures. They have been avoiding odd phrasings, the drone and the angularity that has been a part of the current post-punk revival scene ... thus far. Singer Alex Rice has a dynamic presence and puts on quite a show. Their music is intended as a fun affair and one does not find expressions of anxiety or gloom in it, even though they turned towards a somewhat darker tone on their 2022 album, Gulp!. Their lyrics are filled with sardonic and humorous observations about middle class life and the band seems to be revelling in their buoyancy.
Members

Alex Rice: vocals
Rob Knaggs: guitar
Henry Young: guitar
Oli Dewdney: bass
Al Greenwood: drums
Ben Mack: keyboards
Schedule

Displaying 3 total events

| Show | Venue | City | Date and time | Tickets |
| --- | --- | --- | --- | --- |
| Sports Team with Special Guests | Wicket Hall | Victoria, BC (CA) | Fri, Mar 31, 2023 07:30 pm | |
| SPORTS TEAM | The Starlite Room | Edmonton, AB (CA) | Mon, Apr 3, 2023 07:30 pm | |
| Sports Team | The Horseshoe Tavern | Toronto, ON (CA) | Thu, Apr 6, 2023 08:00 pm | |
Comments