Why register as a user?
(This is a one time popup)
With a username, you become a part of our community.  
As a member, you can share your knowledge in the following ways.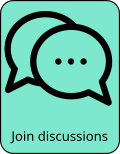 To register, click on the red person icon at the top right or this link.
We will not know anything about you other than your email, used for password confirmation and communications.  
For next steps, see FAQ for: How can I register as a user?
Outline

Pussy Gillette is an Austin based power trio led by bassist and vocalist Masani Negloria and veteran guitarist Nathan Calhoun, with Brent Prager on drums. Their music sits more or less at the intersection of garage rock and punk with a powerful, guitar driven raw sound. They play with a sense of hurry in the true garage fashion, but also keep it restrained enough to never cross into the manic territory even though they come close to that line. The guitar is as rugged as one would expect and the rhythm section is solid. Negloria's shout singing and the band's occasionally fiery riffs gives them their punk aura. Their songs are mostly locked into satire and humor, with just enough anger that is palpable below the surface. 
Members

Masani Negloria: vocals, bass
Nathan Calhoun: guitar
Brent Prager: drums
Schedule

We currently have no events listed for Pussy Gillette.
Comments