Why register as a user?
(This is a one time popup)
With a username, you become a part of our community.
As a member, you can share your knowledge in the following ways.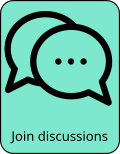 To register, click on the red person icon at the top right or this link.
We will not know anything about you other than your email, used for password confirmation and communications.
For next steps, see FAQ for: How can I register as a user?
Outline

Pom Pom Squad is the project of singer-songwriter and guitar player Mia Berrin, who creates music mostly in the style of grunge and '90s version of alt rock. The name started as a moniker for Berrin but then became the name of her band. Their music mostly covers the range between amped up punk and the relatively smoother, more melodically conscious rock. When the band is in their full on grunge mode, they pack a lot of angst and intensity. On the other hand, when they loosen up and slide into a more pop kind of rock, the songs have a definite melodic edge and still maintain their punch. There are also times when Berrin takes a left turn somewhere along the way and produces the kind of pop that would have fit right in with the sophisticated pop sound of the '60s, see, for instance, Be Good.
Members

Mia Berrin: vocals, guitar
Shelby Keller: drums
Alex Mercuri: guitar
Schedule

We currently have no events listed for Pom Pom Squad.
Comments