Why register as a user?
(This is a one time popup)
With a username, you become a part of our community.
As a member, you can share your knowledge in the following ways.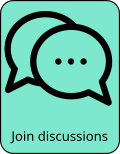 To register, click on the red person icon at the top right or this link.
We will not know anything about you other than your email, used for password confirmation and communications.
For next steps, see FAQ for: How can I register as a user?
Outline

Nation of Language is a three piece band based in Brooklyn that combines parts of synth pop with new wave and a pinch of post-punk.  Despite being such a synth-centric band, their music moves quite organically in exactly the same way that the best of '80s new wave acts were able to counter balance the rigidity of their instrumental set up: pouring a lot of heart and soul into the songs. The band seems to understand that at a deep level: vocalist Ian Devaney is able to capture a lot of that same emotional timbre. On the synths front, their sound typically follows the Depeche Mode and OMD blueprint, the latter being a band that Devaney sites as an inspiration, but there are also times that suggest that the members must really love their old Kraftwerk records. The songs have a dark undertone for sure but they do lock in on a nice, familiar groove.
Members

Ian Richard Devaney: vocals, guitar, synth, percussion
Aidan Noell: synthesizer
Michael Sue-Poi: bass
Schedule

Displaying 2 total events
Comments