Why register as a user?
(This is a one time popup)
With a username, you become a part of our community.  
As a member, you can share your knowledge in the following ways.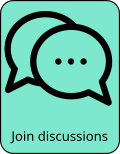 To register, click on the red person icon at the top right or this link.
We will not know anything about you other than your email, used for password confirmation and communications.  
For next steps, see FAQ for: How can I register as a user?
Outline

Moon Panda is the dream pop duo Gustav Moltke and Maddy Myers on guitar and bass, respectively. They play a pretty low tempo and laid back style without crossing into drowsiness. There is, in fact, often a lively beat to their music, kept at moderate levels within the genre standards, of course. Myers also handles the vocals with her soft, gentle, and breathy voice that tends to glide in a way that is reminiscent of some of the classic trip-hop vocalists. The songs are strong on melodies and they come with mild hooks that may not necessarily jump out immediately but make their presence felt as the songs settle in their grooves. All this adds to the charming quality of their music, which has an inevitable calming effect that encourages the listener to pause and drift away with the band for a while.

Portishead after a relaxing holiday.
Members

Maddy Myers: vocals, bass
Gustav Moltke: guitar
Schedule

We currently have no events listed for Moon Panda.
Comments