Why register as a user?
(This is a one time popup)
With a username, you become a part of our community.
As a member, you can share your knowledge in the following ways.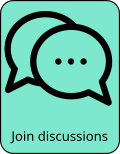 To register, click on the red person icon at the top right or this link.
We will not know anything about you other than your email, used for password confirmation and communications.
For next steps, see FAQ for: How can I register as a user?
Outline

Magic Wands is a dream pop band based in Los Angeles that digs deeper into the geneology of the genre and pulls on some of the old post-punk threads that have been lying around since the mid '80s when dream pop was coming to its own. The ingredients are the same as with any other dream pop band, including the shimmering guitars, the reverbed snare, and most of all layers of haze in the vocals. It's the way they put those together, plus a little bit of synth work, that calls back to new wave-ish ideas. The core of the band is the duo of guitarists Dexy and Chris Valentine, who have been releasing music together since the early '10s. Their more recent work tends to turn the dreamy elements a couple of notches down in the production in favor of new wave textures. 
Members

Chris Valentine: guitar
Dexy Valentine: guitar, keyboard, vocals
Pablo Amador: drums
Schedule

We currently have no events listed for Magic Wands.
Comments