Why register as a user?
(This is a one time popup)
With a username, you become a part of our community.
As a member, you can share your knowledge in the following ways.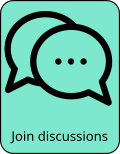 To register, click on the red person icon at the top right or this link.
We will not know anything about you other than your email, used for password confirmation and communications.
For next steps, see FAQ for: How can I register as a user?
Outline

Alto saxophonist Lakecia Benjamin is a jazz artist who plays mostly in the post-bop style, though with a decidedly contemporary twist especially in her production. As a performer, she is just as likely to turn in lovely, sensitive ballads and spiritually moving pieces as she is to push for an abrasive and unsettling sound. Her 2020 album Pursuance: The Coltranes was a tribute to both Alice and John Coltrane where she explored the common threads between the two artists. Their influence can be felt throughout her music, especially in her recent work. Her earlier albums  in the '10s, were strongly anchored in soul and funk fusion where she was tapping into some '70s magic, including some of the pop jazz elements from that period.
Schedule

We currently have no events listed for Lakecia Benjamin.
Comments