Why register as a user?
(This is a one time popup)
With a username, you become a part of our community.  
As a member, you can share your knowledge in the following ways.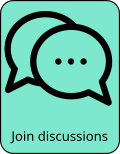 To register, click on the red person icon at the top right or this link.
We will not know anything about you other than your email, used for password confirmation and communications.  
For next steps, see FAQ for: How can I register as a user?
Outline

Dehd is a Chicago based indie rock trio with a relatively ragged sound, influenced by '60s girl band vocals, jangle pop, and garage pop, not necessarily in that order. Drummer Eric MacGrady lays out a solid stumping beat  with his stripped down configuration consisting of only a snare, a floor tom, and a trigger kit. Guitarist Jason Balla goes back and forth between reverb and chimey surf rock tones. The vocals are handled jointly by Balla and the bass player Emily Kempf, as they trade lines, leads, loosely harmonize their way through the songs. They play with a sense of sway and a lot of space as a band. Their songwriting has been getting sharper and more mature with each album, and their production, tighter and cleaner. They have left behind the lo-fi sound and the nervous energy of their early days behind.
Members

Emily Kempf: bass, vocals
Jason Balla: guitar, vocals
Eric McGrady: drums
Schedule

Displaying 13 total events

| Show | Venue | City | Date and time | Tickets |
| --- | --- | --- | --- | --- |
| Ohana Fest (3 Day Pass) with The Killers, Eddie Vedder, Foo Fighters, and more | Doheny State Beach | Dana Point, CA (US) | Fri, Sep 29, 2023 03:30 am | |
| Ohana Fest (Sunday) with Foo Fighters, Pretenders, Rainbow Kitten Surprise, and more | Doheny State Beach | Dana Point, CA (US) | Sun, Oct 1, 2023 03:30 am | |
| Dehd (18+) | Amsterdam Bar & Hall | Saint Paul, MN (US) | Wed, Oct 4, 2023 08:00 pm | |
| Dehd | The Record Bar | Kansas City, MO (US) | Thu, Oct 5, 2023 08:00 pm | |
| Dehd w/ Sarah Grace White | Off Broadway | Saint Louis, MO (US) | Fri, Oct 6, 2023 08:00 pm | |
| Dehd w/ Sarah Grace White | The Basement East | Nashville, TN (US) | Sat, Oct 7, 2023 08:00 pm | |
| Dehd (18+) | Gramps | Miami, FL (US) | Tue, Oct 10, 2023 08:00 pm | |
| Dehd | Orpheum Theatre - Tampa | Tampa, FL (US) | Thu, Oct 12, 2023 06:00 pm | |
| Dehd | The Orpheum - Tampa | Tampa, FL (US) | Thu, Oct 12, 2023 07:00 pm | |
| Dehd | Underbelly | Jacksonville, FL (US) | Fri, Oct 13, 2023 08:00 pm | |
| Dehd | Music Farm | Charleston, SC (US) | Sat, Oct 14, 2023 08:00 pm | |
| Dehd | The Broadberry | Richmond, VA (US) | Sun, Oct 15, 2023 08:00 pm | |
| Dehd | The Hi-Fi Indianapolis | Indianapolis, IN (US) | Thu, Oct 19, 2023 07:00 pm | |
Comments