Why register as a user?
(This is a one time popup)
With a username, you become a part of our community.  
As a member, you can share your knowledge in the following ways.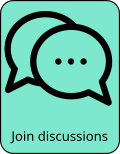 To register, click on the red person icon at the top right or this link.
We will not know anything about you other than your email, used for password confirmation and communications.  
For next steps, see FAQ for: How can I register as a user?
Outline

Black Pumas is a band led by singer Eric Burton and guitarist Adrian Quesada, that flavors their neo-soul and R&B themes with a touch of retro rock. Their sound was embraced fairly quickly by audiences and critics alike, which is not so surprising given the mainstream-friendly stylistic choices they have made and their thorough understanding of the period sound and ability to upgrade it with contemporary idioms without changing the underlying tone. Their songwriting is fairly strong and their production is highly polished. Burton's voice is right at home with the classic soul elements, including the backing vocals, horn section, vintage keyboards, and a rhythm section that lays down just enough funk. They also happen to be a very dynamic and fun band on stage.

Gnarls Barkley with a rougher edge
Members

Eric Burton: vocals, guitar
Adrian Quesada: guitar
Schedule

We currently have no events listed for Black Pumas.
Comments