Why register as a user?
(This is a one time popup)
With a username, you become a part of our community.  
As a member, you can share your knowledge in the following ways.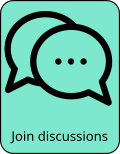 To register, click on the red person icon at the top right or this link.
We will not know anything about you other than your email, used for password confirmation and communications.  
For next steps, see FAQ for: How can I register as a user?
Outline

Big Cream plays a combination of grunge and garage rock that mostly follows the stylistic blueprint of '90s alt rock. Their earlier work, including their first album, 2018's Rust, suggests major  Nirvana influences on the band, especially in some of bassist Matteo Veggetti's vocal delivery. They have grown into a five piece band since then, including a saxophone in the line up, though without any significant modification in their style. They still play high powered indie rock built on a driving bass and solid drums. The guitars do more than just lead and provide the hooks, they also create texture. Their instrumentation is particularly sharp, with the sax bringing in an additional dimension to their music. 
Members

Nicolò Ruggeri: drums
Matteo Veggetti: bass, vocals
Riccardo Pantalone: guitars
Schedule

We currently have no events listed for Big Cream.
Comments