Why register as a user?
(This is a one time popup)
With a username, you become a part of our community.
As a member, you can share your knowledge in the following ways.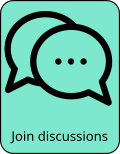 To register, click on the red person icon at the top right or this link.
We will not know anything about you other than your email, used for password confirmation and communications.
For next steps, see FAQ for: How can I register as a user?
Outline

 Chappaqua Wrestling is a Brighton-based indie rock band that pursues an end of the '90s tinged alt-rock with a good chunk of pop integrated into their sound. It is led by the guitarists Charlie Woods and Jake Mac, who have a keen ear for that period's guitar styles, from grunge to shoegaze, as well as the common cadence of its melodies and vocal delivery. The band plays with great confidence and often goes for a big sound in their delivery. Their beginnings were considerably breezier and lighter, as captured in their 2017 EP, where the duo's ability to put together catchy tunes is on display more openly.
Members

Charlie Woods: vocals, guitar
Jake Mac: vocals, guitar
John-Paul Townsend: drums
Coco Varda: keyboards
Schedule

Displaying 2 total events
Comments