Why register as a user?
(This is a one time popup)
With a username, you become a part of our community.
As a member, you can share your knowledge in the following ways.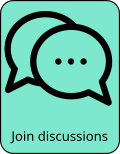 To register, click on the red person icon at the top right or this link.
We will not know anything about you other than your email, used for password confirmation and communications.
For next steps, see FAQ for: How can I register as a user?
Outline

Bibi Club is the vocalist and keyboardist Adèle Trottier-Rivard and guitarist Nicolas Basque, who freely shift between styles and genres, and do that in a way that preserves a consistent sound and flavor. Their songs effortlessly roll from sultry late night club jazz to romantic French balladry, then on to electronic dance numbers, Latin beats, dream pop, sad folk, etc, all without losing any of their overarching mood and feel. They keep it small and intimate, moving along with a bounce that partially comes from Basque's sparkly guitar with occasional echoes of Durutti Column's Vini Reilly. They normally stay in the mid-tempo range with a slight melancholic angle that is bolstered by Trottier-Rivard's lovely, pensive, and slightly introverted vocals.
Members

Adèle Trottier-Rivard: vocals, keyboards
Nicolas Basque: guitar
Schedule

We currently have no events listed for Bibi Club.
Comments