Why register as a user?
(This is a one time popup)
With a username, you become a part of our community.
As a member, you can share your knowledge in the following ways.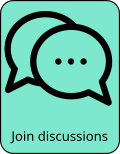 To register, click on the red person icon at the top right or this link.
We will not know anything about you other than your email, used for password confirmation and communications.
For next steps, see FAQ for: How can I register as a user?
Outline

Donna Blue is a duo based in Amsterdam whose music a complete throwback to a lot of the sultry and darkly romantic musical trends of the '60s, both in their original form and its various modified revivals through the years. The base they work off of is partly the French yé-yé sound (see very early Françoise Hardy, Serge Gainsbourg) and partly the dark western sound that Ennio Morricone developed with all his signature guitar tremolo. Add to that their slow shuffling tempo and that slight, lazy swing, it is hard not to get serious Twin Peaks vibes from their songs. Expect a lot of reverb, clearly and patiently articulated melodies, and a whole lot of seductive vocals as the pair share the singing duties, and deliver their songs in both English and French.
Members

Danique van Kesteren: vocals keyboards
Bart van Dalen: guitar, bass, keyboards, percussiuon
Schedule

We currently have no events listed for Donna Blue.
Comments