Why register as a user?
(This is a one time popup)
With a username, you become a part of our community.
As a member, you can share your knowledge in the following ways.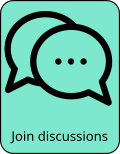 To register, click on the red person icon at the top right or this link.
We will not know anything about you other than your email, used for password confirmation and communications.
For next steps, see FAQ for: How can I register as a user?
Outline

Aiming for Enrike is a guitar/drums duo from Oslo, Norway melds a number of ingredients into a signature sound. They bring in some rock, some funk, and a lot of purposeful noise, which can be especially cranked up in their live shows. There are plenty of electronic effects involved, whether in the form of keyboards or guitar pedals. The beat is often strong enough to be danceable, but with a level of darkness that recalls '90s industrial bands. Their songs are all instrumental and highly structured. They are packed with details and typically progress at an unrelenting pace, even frenetic at times. They have the sudden shifts and turns  often associated with math rock, as well as  an apparent lack of interest in having an emotional topsoil for the audience to plant themselves in. That said, the duo are in complete sync with one another and play like they work from a single mind, which is a remarkable thing that is worth seeing.
Members

Simen Følstad Nilsen: guitar
Tobias Ørnes Andersen: drums
Schedule

We currently have no events listed for Aiming for Enrike.
Comments