Why register as a user?
(This is a one time popup)
With a username, you become a part of our community.
As a member, you can share your knowledge in the following ways.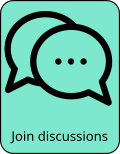 To register, click on the red person icon at the top right or this link.
We will not know anything about you other than your email, used for password confirmation and communications.
For next steps, see FAQ for: How can I register as a user?
Outline

The New Colossus Music Festival is a fairly recent addition to the festival circuit that began in 2019 and that takes place in early- to mid-March at various venues on the Lower East Side of Manhattan. It doubles as a music industry conference, hosting talks and discussion panels in addition to concerts. The musical lineup focuses on emerging indie artists from around the world and has a distinctly international flavor. Its timing, being just before SxSW, makes it a convenient warmup for many artists heading there afterward and there is, indeed, a good bit of overlap between the lineups. The name of the festival comes from a poem about the Statue of Liberty and pays homage to New York City's status as an entry point into America.

Venues are expected to include Mercury Lounge, Berlin, Arlene's Grocery, Bowery Ballroom, The Bowery Electric, Heaven Can Wait and Pianos

Playlists featuring artists in the lineup are available on YouTube, SoundCloud and Spotify.

New Colossus distinguishes itself by being an incredible bargain with passes costing only $99 plus ticket seller fees and taxes. That being the case, tickets for individual shows are not guaranteed but may be available at the door.
Lineup

36?

802

Anthony OKS

Arverne

Astronomies

Ava Vegas

BIG SEA

Bloomsday

Bonnie Trash

Boy With Apple

boy wonder

Buff Ginger

Bummer Camp

church crush

Claudia Bouvette

Clea Anaïs

Colatura

Day & Dream

Dead Tooth

Deep Sea Peach Tree

Diary

Dirty Freud

Father Koi

Fears

Gäy

Hang Him to the Scales

Heaven For Real

Helen Ganya

Her Dark Heaven

High.

His His

Hoorsees

J. Pastel

Jane Inc.

Jeanines

Joudy

Kali Horse

Keegan Powell

Keeper E.

knitting

KOKO

Lahnah

Lauren Lakis

Laveda

Lucy Kruger & The Lost Boys

Lukka

LUNACY

MANE

Marci

Mary Shelley

Monsoon

My Son The Doctor

Nat Vazer

Naya Ali

NEVVA

O. Wake

Oh Imanuela

Pale Dīan

Phillip Jon Taylor

Picture Show

Plattenbau

Pons

Public Body

Pulsr

Punchlove

Ringing

Robber Robber

Roost.World

Shallow Waves

Shanghai Qiutian

Shred Flintstone

Sid Simons

Slow Fiction

Slut Magic

Snotty Nose Rez Kids

Sobs

Spirits of Leo

stranger waves

Teenage Halloween

Ten Minute Detour

The After Hours

The Garrys

The Pleasure Majenta

The Tarrys

THUS LOVE

Two-Man Giant Squid

Web Hex

Windier

Work Wife

Wynona Bleach
Poster
Comments