Why register as a user?
(This is a one time popup)
With a username, you become a part of our community.
As a member, you can share your knowledge in the following ways.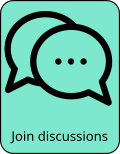 To register, click on the red person icon at the top right or this link.
We will not know anything about you other than your email, used for password confirmation and communications.
For next steps, see FAQ for: How can I register as a user?
Outline

Xenia Rubinos is a singer-songwriter whose music brings jazz, Latin, hip-hop, and R&B together in a way that is equal parts familiar and idiosyncratic. She is a trained jazz musician and a composer born to Caribbean parents (Puerto Rican and Cuban). While her work has focused mostly on the intersection of jazz and hip-hop, her 2021 album Una Rosa saw her also fully embrace her Latin side, singing in Spanish, and explicitly from the point of view of rhythms and melodies. This was also where she adopted a semi-theatrical production style, including long set ups, spoken bits and so on. She is a superb jazz vocalist and an exceptional songwriter who not only goes far beyond putting catchy melodies together. She builds pieces of music by assembling combining melodies, adding secondary layers, playing with rhythms, shifting elements around, and so on.
Schedule

We currently have no events listed for Xenia Rubinos.
Comments