Why register as a user?
(This is a one time popup)
With a username, you become a part of our community.
As a member, you can share your knowledge in the following ways.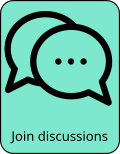 To register, click on the red person icon at the top right or this link.
We will not know anything about you other than your email, used for password confirmation and communications.
For next steps, see FAQ for: How can I register as a user?
Outline

Seazoo is a band that plays impeccable pop songs that are uptempo, bouncy, and brimming with snappy melodies.  Their songs carry shades of some of the best kind pop that came out of the '80s. Singer Ben Trow's vocal style comes across as somewhere between Lloyd Cole and Stephen Malkmus, two very worthy precursors, and helps counterweigh the overall sweetness. The band is imaginative with their instrumental arrangements, doing the little things that keep their songs distinct from one another, which adds up to a high quality indie pop that also manages not to give the audience a sugar rush.
Members

Ben Trow: guitar, vocals
Dan West: guitar
Llinos Griffiths: keyboards
Mike Smith: bass
Steffan Owens: drums

Schedule

We currently have no events listed for Seazoo.
Comments