Why register as a user?
(This is a one time popup)
With a username, you become a part of our community.
As a member, you can share your knowledge in the following ways.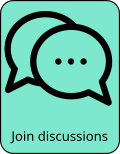 To register, click on the red person icon at the top right or this link.
We will not know anything about you other than your email, used for password confirmation and communications.
For next steps, see FAQ for: How can I register as a user?
Outline

The Lyonz (stylized as THe LYONZ) are a hip-hop/electronic duo from Montréal, founded in 2013. Their music typically consists of very chill but deeply layered and mutating electronic grooves accompanied by laid back rapping, but sometimes includes singing either by Norrin (Terrell McLeod Richardson) and/or a guest vocalist. More rarely, some tracks are fully instrumental and they also make use of some jazz elements, at times. The result, combined with the group's lyrical sophistication, is fairly unique in that it both rewards close listening and works as background music, which is not intended as a knock, but rather a tribute to how natural it all sounds. In addition to their music, the group considers themselves an art collective and produce quite elaborate videos.
Members

Salvo (Anthony Salvo)
Norrin (Terrell McLeod Richardson)
Schedule

We currently have no events listed for THe LYONZ.
Comments