Why register as a user?
(This is a one time popup)
With a username, you become a part of our community.
As a member, you can share your knowledge in the following ways.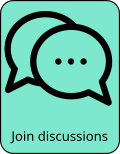 To register, click on the red person icon at the top right or this link.
We will not know anything about you other than your email, used for password confirmation and communications.
For next steps, see FAQ for: How can I register as a user?
Outline

The Joy Formidable is an indie trio that plays their music mostly straight up rock with very little stylistic deviation. They are originally from the town of Mold (= Yr Wyddgrug) in Wales and have been working off of some off road location in Utah the past few years. Their roots are in a shoegaze meets indie rock sound with all the wall of guitar noise and punchy drums. Some of those tendencies still lurk in some of their instrumentation choices, but otherwise they are locked more into the raw, combustible energy of a died in the wool rock band that also exercises a level of discipline and restraint, which turns out to sharpen their work.  The songwriting partnership between singer/guitarist Ritz Bryan, who sings in a voice that is vaguely reminiscent of Tanya Donnelly, and bassist Rhydian Dafydd is a fruitful one, and remains the main creative engine of the band.
Members

Ritzy Bryan: vocals, guitar
Rhydian Dafydd: bass, vocals
Matt Thomas: drums
Schedule

Displaying 24 total events

| Show | Venue | City | Date and time | Tickets |
| --- | --- | --- | --- | --- |
| The Joy Formidable | Turf Club | Saint Paul, MN (US) | Wed, Sep 7, 2022 08:00 pm | |
| The Joy Formidable | Bowery Ballroom | New York, NY (US) | Sun, Sep 11, 2022 07:00 pm | |
| The Front Bottoms | Mulcahy's Pub and Concert Hall | Wantagh, NY (US) | Wed, Sep 14, 2022 07:30 pm | |
| The Front Bottoms | GLC Live at 20 Monroe | Grand Rapids, MI (US) | Sun, Sep 18, 2022 06:30 pm | |
| The Front Bottoms w/ The Joy Formidable & Mobley | The Signal | Chattanooga, TN (US) | Wed, Sep 21, 2022 07:30 pm | |
| The Front Bottoms | Summit | Denver, CO (US) | Mon, Sep 26, 2022 06:30 pm | |
| The Front Bottoms | The Union | Salt Lake City, UT (US) | Tue, Sep 27, 2022 07:30 pm | |
| The Front Bottoms | Knitting Factory Concert House - Boise | Boise, ID (US) | Wed, Sep 28, 2022 08:00 pm | |
| The Front Bottoms | Knitting Factory Concert House - Spokane | Spokane, WA (US) | Fri, Sep 30, 2022 08:00 pm | |
| The Front Bottoms | Riverside Municipal Auditorium | Riverside, CA (US) | Fri, Oct 7, 2022 07:00 pm | |
| The Front Bottoms | Rialto Theatre-Tucson | Tucson, AZ (US) | Tue, Oct 11, 2022 07:30 pm | |
| The Front Bottoms | Aztec Theatre | San Antonio, TX (US) | Fri, Oct 14, 2022 08:00 pm | |
| The Front Bottoms | House of Blues New Orleans | New Orleans, LA (US) | Mon, Oct 17, 2022 06:30 pm | |
| The Front Bottoms | The Fillmore Charlotte | Charlotte, NC (US) | Wed, Oct 19, 2022 07:30 pm | |
| The Joy Formidable | Showcase Lounge at Higher Ground | South Burlington, VT (US) | Sat, Oct 22, 2022 08:00 pm | |
| The Joy Formidable | Underground Arts | Philadelphia, PA (US) | Thu, Oct 27, 2022 08:00 pm | |
| The Joy Formidable | The Sinclair Music Hall | Cambridge, MA (US) | Fri, Oct 28, 2022 08:30 pm | |
| The Joy Formidable | Space Ballroom | Hamden, CT (US) | Sat, Oct 29, 2022 08:00 pm | |
| The Joy Formidable | The Hi-Fi Indianapolis | Indianapolis, IN (US) | Mon, Oct 31, 2022 08:00 pm | |
| The Joy Formidable | Blueberry Hill Duck Room | St Louis, MO (US) | Tue, Nov 1, 2022 08:00 pm | |
| The Joy Formidable | The Waiting Room - NE | Omaha, NE (US) | Wed, Nov 2, 2022 08:00 pm | |
| The Joy Formidable | The Crocodile | Seattle, WA (US) | Sun, Nov 6, 2022 08:00 pm | |
| The Joy Formidable | Mississippi Studios | Portland, OR (US) | Mon, Nov 7, 2022 08:00 pm | |
| The Joy Formidable | 9:30 CLUB | Washington, DC (US) | Thu, Jun 22, 2023 07:00 pm | |
Comments