Why register as a user?
(This is a one time popup)
With a username, you become a part of our community.  
As a member, you can share your knowledge in the following ways.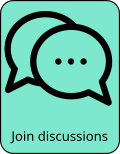 To register, click on the red person icon at the top right or this link.
We will not know anything about you other than your email, used for password confirmation and communications.  
For next steps, see FAQ for: How can I register as a user?
Outline

G Flip is Georgia Flipo, a singer-songwriter and multi-instrumentalist, originally from Melbourne, who enthusiastically injects a drummer's point of view into contemporary pop. This was not as much the case early on when their work was aligned more with bedroom pop, displaying R&B tendencies and the beats were mostly even-keeled. They flipped the switch, so to speak, on their second album, 2023's aptly titled Drummer, where their main instrument, the drums, took to lead. And this happened not only in the production but also in the way some of their songs sounded like they were composed on a drum set. Other than that, their music is exuberant, with a booming sound, big, anthemic highs, and often dramatic vocals, though almost always with some sense of humor peeking through the cracks.
Schedule

Displaying 23 total events

| Show | Venue | City | Date and time | Tickets |
| --- | --- | --- | --- | --- |
| G Flip | Warehouse Live-Ballroom | Houston, TX (US) | Tue, Sep 26, 2023 08:00 pm | |
| G Flip | Cheer Up Charlie's | Austin, TX (US) | Wed, Sep 27, 2023 08:00 pm | |
| G Flip | Neighborhood Theatre | Charlotte, NC (US) | Mon, Oct 2, 2023 08:00 pm | |
| G Flip | The Atlantis | Washington, DC (US) | Tue, Oct 3, 2023 06:30 pm | |
| G Flip | The Atlantis | Washington, DC (US) | Tue, Oct 3, 2023 07:30 pm | |
| G Flip | The Foundry | Philadelphia, PA (US) | Thu, Oct 5, 2023 08:00 pm | |
| G Flip | Music Hall of Williamsburg | Brooklyn, NY (US) | Fri, Oct 6, 2023 09:00 pm | |
| G Flip | Brighton Music Hall | Boston, MA (US) | Sat, Oct 7, 2023 07:00 pm | |
| G Flip | Thunderbird Cafe & Music Hall | Pittsburgh, PA (US) | Mon, Oct 9, 2023 08:00 pm | |
| G Flip | The End - Nashville | Nashville, TN (US) | Wed, Oct 11, 2023 07:00 pm | |
| G Flip | Delmar Hall | St. Louis, MO (US) | Thu, Oct 12, 2023 08:00 pm | |
| G Flip | Park West | Chicago, IL (US) | Fri, Oct 13, 2023 07:30 pm | |
| G Flip | Reverb Lounge | Omaha, NE (US) | Sun, Oct 15, 2023 08:00 pm | |
| G Flip | Fox Theatre & Cafe | Boulder, CO (US) | Tue, Oct 17, 2023 09:00 pm | |
| G Flip | Bluebird Theatre | Denver, CO (US) | Wed, Oct 18, 2023 08:00 pm | |
| G Flip | Kilby Court - Salt Lake City | Salt Lake City, UT (US) | Fri, Oct 20, 2023 08:00 pm | |
| G Flip | Hollywood Theatre - Vancouver | Vancouver, BC (CA) | Sun, Oct 22, 2023 07:00 pm | |
| G FLIP - The G FLIP Tour, phem | Hollywood Theatre | Vancouver, BC (CA) | Sun, Oct 22, 2023 08:00 pm | |
| G Flip | Neumos | Seattle, WA (US) | Mon, Oct 23, 2023 07:00 pm | |
| G Flip | Neumos | Seattle, WA (US) | Mon, Oct 23, 2023 08:00 pm | |
| G Flip | Star Theater - Portland | Portland, OR (US) | Tue, Oct 24, 2023 08:00 pm | |
| G Flip | Rickshaw Stop | San Francisco, CA (US) | Thu, Oct 26, 2023 08:00 pm | |
| G Flip | El Rey Theatre | Los Angeles, CA (US) | Fri, Oct 27, 2023 08:30 pm | |
Comments