Why register as a user?
(This is a one time popup)
With a username, you become a part of our community.
As a member, you can share your knowledge in the following ways.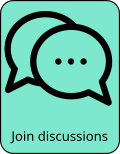 To register, click on the red person icon at the top right or this link.
We will not know anything about you other than your email, used for password confirmation and communications.
For next steps, see FAQ for: How can I register as a user?
Outline

Data Animal is Berlin based multi-instrumentalist duo Mitchell James O'Sullivan and Takumi Yanai, whose music is a cross between '90s no wave sound (see Suicide) and noise rock with an electronic bend. They work with heavily fuzzed up guitars and bass, the steady pounce of drums, specifically the kick drum and floor toms that pound away the beat. The sound is harsh and rigid without being too aggressive. They sometimes spend time noodling around with various instruments to create chaotic segments.  The way they meld their distorted guitar sound with the basic rock beats also brings to mind the work of T.Rex when they were in their cranked up mode.
Members

Mitchell James O'Sullivan: guitar, keyboards,
Takumi Yanai: guitar, keyboards
Schedule

We currently have no events listed for Data Animal.
Comments