Why register as a user?
(This is a one time popup)
With a username, you become a part of our community.
As a member, you can share your knowledge in the following ways.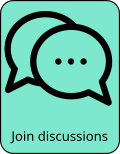 To register, click on the red person icon at the top right or this link.
We will not know anything about you other than your email, used for password confirmation and communications.
For next steps, see FAQ for: How can I register as a user?
Outline

Buffalo Nichols is the stage name used by Carl Nichols, a singer-guitarist who grew up in Milwaukee and had to travel around the world before he came home to blues. He sings in a gruff, sandy voice, though his songs have a fairly easy flow with good hooks. His lyrics often reflect on some bleak realities out there, both personal and political, which stays true to the spirit of the genre. He typically works with an acoustic guitar, favoring a fingerpicking style over strumming. As deeply traditional as his blues tends to be, there is a bit of a country touch in his music as well, and one can occasionally catch a glimpse of contemporary pop styling in his transitions. That said, his overall light touch and the strength of the songs suggest this might be the kind of blues that would be appealing to the broader public.
Schedule

Displaying 2 total events
Comments