Why register as a user?
(This is a one time popup)
With a username, you become a part of our community.  
As a member, you can share your knowledge in the following ways.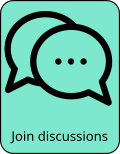 To register, click on the red person icon at the top right or this link.
We will not know anything about you other than your email, used for password confirmation and communications.  
For next steps, see FAQ for: How can I register as a user?
Outline

Led by guitarist and vocalist Jack Steadman and said to be named after a restaurant chain in North London, Bombay Bicycle Club is a band that plays a mellow and melodic brand of indie rock. They started out with a fairly dynamic sound and bold and bright arrangements, working in a vein similar to their contemporaries Vampire Weekend and Alt-J, especially in the way they had an alt-rock edge that also stayed closer to the softer side. Later on, the band began to move closer to a more even-keeled, pop-conscious approach as Steadman's songwriting came to emphasize catchiness and his vocals took on a dreamier quality. They have been creating additional sparks in their music in the way they occasionally tap into South Asian motifs or post-punk and krautrock elements.
Members

Jack Steadman: vocals, guitar, piano
Jamie MacColl: guitar
Ed Nash: bass
Suren de Saram: drums

Schedule

Displaying 2 total events
Comments