Why register as a user?
(This is a one time popup)
With a username, you become a part of our community.
As a member, you can share your knowledge in the following ways.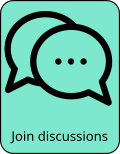 To register, click on the red person icon at the top right or this link.
We will not know anything about you other than your email, used for password confirmation and communications.
For next steps, see FAQ for: How can I register as a user?
Outline

Blushing is an Austin based band whose music covers the range that stretches from shoegaze to dream pop. The guitars provide a swirly layer of dream pop that sits on top of a barage of shoegaze noise, albeit the kind whose rough edges are filed down a little. Likewise, the vocals have the sweet and dreamy tones associated with dream pop while also retaining the muted distance of shoegaze. The band's overall sound is reminiscent of the music of Lush, which was a seminal 4AD band from the 90s that worked in exactly this kind of space. Guitarist Michelle Soto is their primary songwriter and she has a great ear for what makes both genres tick and the band knows how to weave the threads together naturally.
Members

Michelle Soto: guitar
Jacob Soto: drums
Christina Carmona: vocals, bass
Noe Carmona: guitar
Schedule

We currently have no events listed for Blushing.
Comments